The great German North, the diversity, the unique city vibe, the rough wind, the soft sun, the water abundance and even the occasional storm catapult Hamburg on top of the most liked German cities. The urban life vibrates not only on the Reeperbahn, Hamburg's red light district but also in the cities unique caffees& restaurants.
Travelers looking to get around the city just like local wanderers can prepare themselves to sip a cup of coffee while floating on a boat, drink a cocktail in a small ex-toilet house or eat up a soup on the Elbe rivers' pretty canals.
Some are small, some ugly, some others uneven but all of them are very individual and super popular amongst the local Hamburger.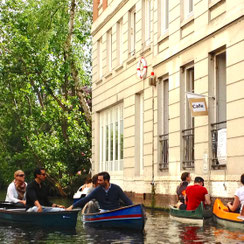 Start off your day with a "kleinem Kaffee" on the Alster lake, at the Cafe Canale. The cafe is located on one of the Alsters' narrow canals and is practically a drive in for pedal boats and canoes. During the summer months, the boat queue get's longer than usual, but that's the price one has to pay for a unique coffee-sipping scenery.
Next one on the list is the hidden Red Dog Café & Cocktailbar. Its' location directly near the Alster shore makes the Red Dog a much-loved spot for young& old, groups& solitary souls. However, not everyone is aware of its' past – and that's what gives the Red Dog a certain individuality – the brick house used to be a toilet house.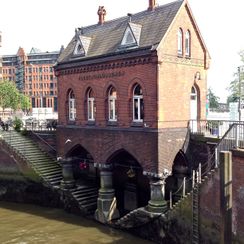 For a tasty, relaxed lunch, head onto Hamburg's warehouse district, at The Fleetschlösschen. This sweet little spot started off as a chapel, afterward, it was used as the main customs house for goods entering the warehouse, and also served as a fire brigade. Today, the Fleetschlösschen still stands tall at the St. Annen crossroad, however, the menü board in front of it indicates its present identity, as a small, quaint restaurant. Be sure to grab a seat outside, this way you'll get a glimpse into the boatsman routine, cruising up and down the small Elbe canals.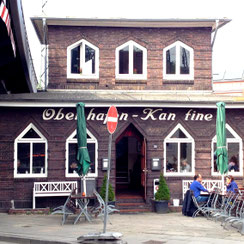 Your stroll along the pretty canal streets in the warehouse district might lead you to the Oberhafenkantine. It's location certainly isn't mind-blowing: it's under a bridge and is rather secluded . However, its' pretty awk, uneven architecture, its' past as a canteen for harbor workers, the staff and the tasty food will certainly leave you with a good impression. As it's the last traditional hanseatic canteen standing, the quirky Oberhafenkantine became a historic monument.
Did any coffee & food spots caught your eye while your travels? Feel free to share, I'm curious about it!
Happy travels!